A chill is in the air… a howl is heard in the distance… and a full moon rises. It is definitely the Halloween season. And while these indicators are evidence that this is a special time of year, there is one thing that makes it even more magical: This full moon rises again and again, every night!
Dan Magee has crafted intricately detailed plywood designs at his Wake Forest, North Carolina, home, with Halloween Moon as an essential focal point. Read about it here in the AtmosFAN Hall of Fame.
AtmosFX's Halloween Moon Decoration Collection is a tribute to the turning of the seasons and, specifically, the moon that looms over us during this special time of year. Comprised of six individual dictations that are inspired by the harvest moon, this innovative collection offers many opportunities to use unique decorating techniques – especially with the AtmosFX Decorating Disc XL.
Moreover, if you purchase the entire decoration collection, you also will receive an additional "Pumpkin Mode" decoration, which integrates seamlessly with all three of the Jack-O'-Lantern Jamboree Decoration Collections.
What are the best ways to use Halloween Moon? Whether you're a first time decorator or a dedicated AtmosFAN, we've got some cool tips that will ensure your love for Halloween shines bright.
Make the Moon Rise – Anywhere!
AtmosFANs around the globe have come to love the combination of Halloween Moon Decoration and the AtmosFX Decorating Disc XL. Why? After lengthy research, the Mad Geniuses in the AtmosFX Developmental Dungeon came to the conclusion that both the moon AND the Decorating Disc XL are round. That being the case, individual decorations in Halloween Moon should be able to be projected in the round, too!
That means it is easy for Halloween decorations to create a full moon anywhere they choose. To do so, just select projecting in "Decorating Disc Mode."
One of the most popular – and compelling – ways to display Halloween Moon on a Decorating Disc XL is above your house, at high atop your roofline or hanging from the limb of a tree. When night falls, project the Halloween Moon Decoration onto the disc and it will appear that the full moon is lingering all night, every night, above your home. That, alone, will draw crowds. But when that full moon appears to silhouette strange nocturnal creatures? Those same crowds will stick around all evening!
While simulating a full moon high above your house is deservedly a popular technique, don't forget that the combination of Halloween Moon and the Decorating Disc XL can work elsewhere, inside or out. Hang the disc from the ceiling, and you'll have a great focal point for a creepy costume party – especially if you display "Zombie Graveyard" individual decoration onto it.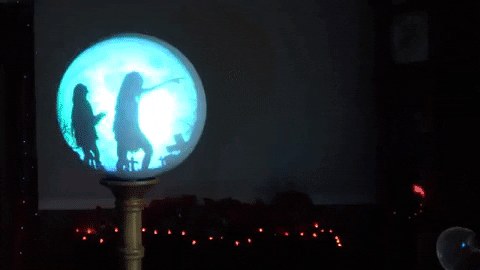 Other clever decorators have also placed a round ball on a makeshift pedestal – light-colored beach balls and exercise balls work great – and then projected Halloween Moon onto it. The spherical shape adds another dimension to the display!
Rooftop Moon, Hollusion-style
There's another cool way to create a rooftop moon that is sure to wow trick-or-treaters and other passers-by. Hang a suspended piece of Hollusion Projection Material above your home, using cable or rope attached to nearby trees, or whatever other tall objects are nearby.

To get the best results, be sure to tie down the bottom edges of the material to keep it taut. (As with any project involving climbing onto high spaces, make sure you have adequate safety precautions and a friend to help!)
When night comes, the Hollusion Projection Material will fade into the darkness, rendering it nearly invisible. Then, when you project Halloween Moon onto it, a low-hanging moon will be there for all to see!
Bring the Moon Indoors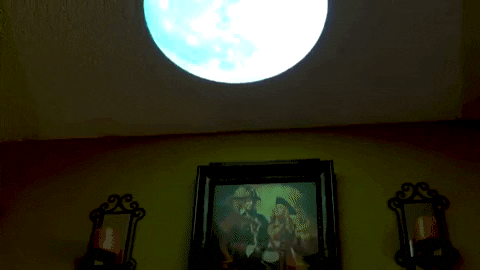 Who would expect to see the moon indoors? Surprise your guests with decorations in unexpected places, such as projecting a moon onto your ceiling. Or your walls! Either way, surface projections are easy and fun ways to add subtle – and sometimes not-so-subtle – seasonal ambience to any indoor space.
Halloween Moon also looks fantastic in TV mode. With purple skies and eerie mist framing the action of the decoration, you can instantly transform any TV, computer monitor or tablet into a spooky skyscape. It's perfect for Halloween parties.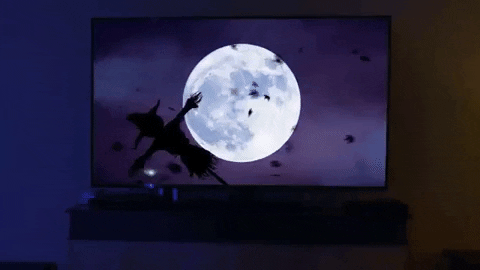 Project onto Pumpkins
Lastly, there's a special treat in Halloween Moon for those who purchase the complete collection. When you shine this special individual decoration onto uncarved pumpkins, it will appear that impressively-detailed, animated Jack-O'-Lanterns have come to life, just like in the Jack-O'-Lantern Jamboree decoration collections!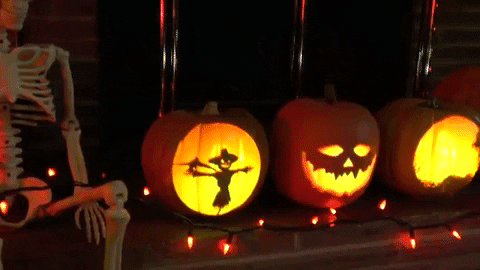 Solo or trio options are included for decorating either one pumpkin or three pumpkins at once. Just remember: Pumpkin Prop trio mode is only available in the full Halloween Moon Decoration Collection and is not sold separately. Single pumpkin versions are included with individual scenes.
No matter how you use Halloween Moon you're creating something special that celebrates the season!
How have you used the Halloween Moon Decoration Collection to push decorating to new and amazing heights? We want to see it! Send us photos and videos of your Halloween Moon handiwork using this simple online form. You could win a free decoration, Kudos, and be featured in the AtmosFAN Hall of Fame!
How do others 'Halloween Moon' in their decoration displays? Check it out here!
Robert Crouch put together a dazzling display at his home in Indianapolis, Indiana, with the 'Moon Mode' projection of Halloween Moon taking center stage. Read about it here in the AtmosFAN Hall of Fame.
Halloween Moon plus the Decorating Disc XL also looks great indoors, as evidenced by the holiday display at Rayburn Dental Studio in North Battleford, Saskatchewan. Read about it here in the AtmosFAN Hall of Fame.
The moon also looks awesome in the southern hemisphere, as proven by this stellar 'Moon Mode' display created by Bill Hartshorne, of Geelong, Victoria, Australia. Read about it here in the AtmosFAN Hall of Fame.
Andy Yankovich of Arvada, Colorado, uses Halloween Moon to great effect in his whole-house projection mapping display.
Check out how these and other AtmosFANs have Halloween Moon Decoration Collection – as well as many other techniques – in the AtmosFAN Hall of Fame!