A chill is in the air… a howl is heard in the distance… and a new moon rises. AtmosFX's newest decoration is a tribute to the turning of the seasons and the beginning of our favorite time of year - Halloween is almost here!
The Halloween Moon collection features unique display modes with many opportunities for new, innovative decorating techniques. Most importantly, we've returned to the dynamic "Moon Mode" decoration technique premiered in the Santa's Sleigh Ride collection. Finally you can bask in the light of the Halloween moon wherever or whenever you please. Whether you're a first time digital decorator or a dedicated AtmosFAN, here's some cool tips you can try to let your love for Halloween shine.
Project onto your Ceiling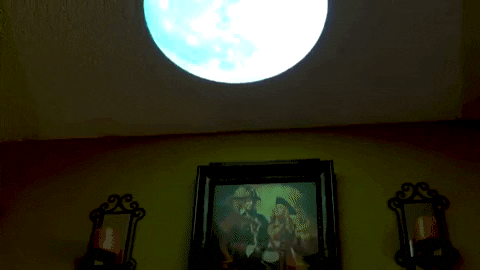 Surprise your audiences with decorations in unexpected places! Projecting a moon on your ceiling is an easy and fun way to add a subtle seasonal ambience to any indoor space.
Decorate your TV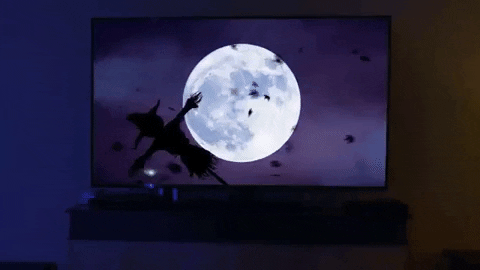 Halloween Moon looks fantastic in its TV mode. With purple skies and eerie mist framing the action of the decoration, you can instantly transform any TV or monitor into a spooky skyscape.
Project onto a Circular Prop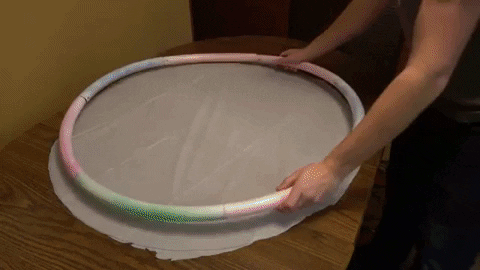 While we released our new Decorating Disc to make it easier than ever to project circular digital decorations here's an easy, fun, and very impressive DIY project to create your own circular shape as well. All you need is a hula hoop (you know, for kids!), some tape, and some spare material you can cut to shape. If you have don't have extra projection material you can use, a frosted shower curtain liner will do the trick.
Cut a circle out of the material, slightly larger than the hoop
Tape the edges of the material to inner-circle of the hoop
Add hooks, fishing line, or any handy materials you have to hang the hoop from your window
Create a Dimensional Moon Prop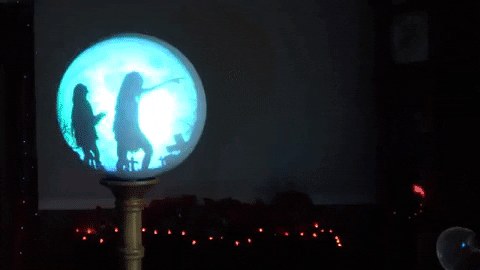 Project your moon mode decorations onto a free-standing globe for an amazing dimensional illusion. You can use a beachball, styrofoam spheres, or any white, round object you can find.
Project onto Pumpkins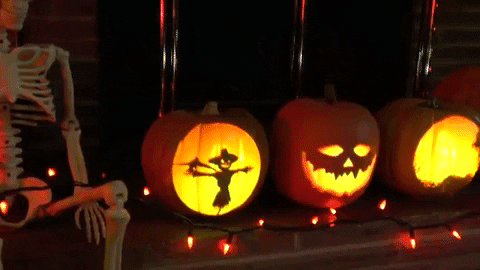 Show off an impressively-detailed, animated Jack-O'-Lantern using the pumpkin prop mode decorations in Halloween moon. Solo or trio options are included for decorating either 1 pumpkin or 3 pumpkins at once. NOTE: Pumpkin Prop trio mode is only available in the full Halloween Moon collection and is not sold separately. Single pumpkin versions are included with individual scenes.
Rooftop Decorating
Finally, wow your trick-r-treaters with a low-hanging moon over your home using a suspended piece of Hollusion Projection Material. Tie the material using cable or rope to nearby trees, or whatever other tall objects are nearby. To get the best results, be sure to tie down the bottom edges of the material to keep it taut. As with any project involving climbing onto high spaces, make sure you have adequate safety precautions and a friend to help!
Share your Halloween Moon with the World!
AtmosFANs are always pushing digital decorating to new and amazing heights, and this time we hope you'll really reach for the skies! To send us your Halloween Moon handiwork, click here to visit our AtmosFAN of the Week application form. You could win a free decoration, kudos, and be featured in the AtmosFAN Hall of Fame!