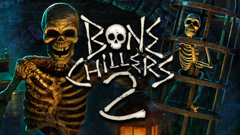 Spooky Skeletons 2
Decoration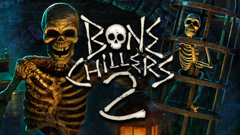 Description

Four separate scenes feature skeletons who are intent on delivering bone-tingling scares to everyone they encounter. These frightening antics make up just one of four individual decorations that comprise the Bone Chillers 2 Digital Decoration Collection. Loaded with dances, musical performances, slapstick routines and some scary scenes, the complete collection is sure to delight no matter where you project it this Halloween.
Decoration Includes

"Caged Cadaver" (1:14)
"Cursed Coffin" (0:54)
"Lantern Lurker" (0:46)
"Shackled Skeleton" (0:38)
Specifications

1080p HD Video Files in .MP4 Format
Horizontal and Vertical Orientations Included
Graveyard Background Included in Wall Decorations
Dungeon Background Included in TV Decorations
Blank Background in Window and Hollusion Decorations
Run Times May Vary Slightly Between Display Modes
Delivered via digital download
HALL

of

FAME

Looking for inspiration to create your own unique digital display? Check our these spectacular digital decoration setups from the best and brightest of the AtmosFX community!
Subtotal $0
Tax and shipping will be calculated at checkout.
Your shopping cart is empty.