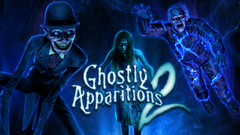 Slender Specter
Decoration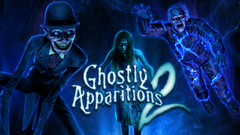 Description

Long and gangly, the Slender Specter looks like a dream. At first he appears normal – but in subtle and strange ways, he's out of proportion. Is the Slender Specter real ... or simply a figment of your imagination? Or both? The Slender Specter is one of three phantasmic projections contained in the Ghostly Apparitions 2 Digital Decoration Collection. He's just dying to see you in your dreams this Halloween!
Decoration Includes

"Bag of Tricks" (2:04)
"Bent Out of Shape" (1:47)
"Dead Man's Float" (3:06)
"Grave Riser" (0:48)
"Midnight Stroll" (2:10)
"Startle Scare" (0:27)
Specifications

Resolution: 1080p HD
Orientation: Horizontal and Vertical
Window Versions: Standard and Background
Wall Versions: Standard and Background
Delivered via digital download
HALL

of

FAME

Looking for inspiration to create your own unique digital display? Check our these spectacular digital decoration setups from the best and brightest of the AtmosFX community!
Subtotal $0
Tax and shipping will be calculated at checkout.
Your shopping cart is empty.