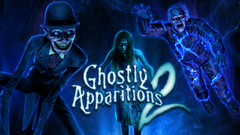 Shocking Shade
Decoration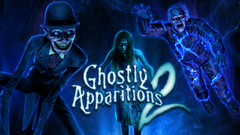 Description

Judging by his charred jumpsuit, this dutiful worker met an untimely end. And clearly he's not happy about it – pulsing with rage, his temper crackles with energy. The Shocking Shade is one of three phantasmic projections contained in the Ghostly Apparitions 2 Digital Decoration Collection. He's just dying to make a service call at your home this Halloween!
Decoration Includes

"Burning Man" (0:43)
"Circuit Breaker" (1:30)
"Grave Riser" (0:39)
"Power Surge" (1:32)
"Shock to the System" (0:32)
"Startle Scare" (0:21)
Specifications

Resolution: 1080p HD
Orientation: Horizontal and Vertical
Window Versions: Standard and Background
Wall Versions: Standard and Background
Delivered via digital download
HALL

of

FAME

Looking for inspiration to create your own unique digital display? Check our these spectacular digital decoration setups from the best and brightest of the AtmosFX community!
Subtotal $0
Tax and shipping will be calculated at checkout.
Your shopping cart is empty.