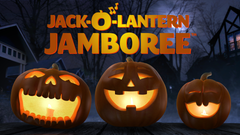 Jack-O'-Lantern Stories
Decoration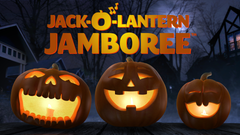 Description

This family-friendly trio of pumpkins share a spooky story and recite a special Halloween version of "Twas the Night Before Christmas", to enchant your trick-or-treaters. Designed to be projected on pumpkins real or fake to make them appear to come to life, the "Jack-O'-Lantern Stories" decoration inspires magic and joy in audiences of all ages when played in windows, or on walls and TVs/Monitors.
Decoration Includes

"Twas the Night of Halloween" (1:32)
"Three Children Bold" (2:23)
Specifications

1080p HD Video Files in .MP4 Format
Horizontal Orientation Only
Pumpkin Prop Options: Single Pumpkin or Trio of Pumpkins
TV and Window Options: Porch Background or Blank Background
Delivered via digital download
HALL

of

FAME

Looking for inspiration to create your own unique digital display? Check our these spectacular digital decoration setups from the best and brightest of the AtmosFX community!
Subtotal $0
Tax and shipping will be calculated at checkout.
Your shopping cart is empty.