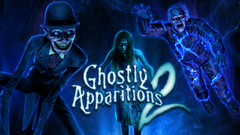 Diabolic Debutant
Decoration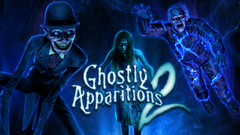 Description

Formerly the pride of her school, this once-darling debutante has deteriorated ever since. Did some dastardly deed befall this her? Or, has she simply hung onto her past far too long? The Diabolic Debutant is one of three phantasmic projections contained in the Ghostly Apparitions 2 Digital Decoration Collection. She's just dying to meet you and your family this Halloween!
Decoration Includes

"Cold Hearted" (1:27)
"Dancing Queen" (1:43)
"Floating Fright" (0:35)
"Drowned Sorrow" (0:29)
"Grave Riser" (0:38)
"Startle Scare" (0:21)
"Teen From Hell" (1:27)
Specifications

Resolution: 1080p HD
Orientation: Horizontal and Vertical
Window Versions: Standard and Background
Wall Versions: Standard and Background
Delivered via digital download
HALL

of

FAME

Looking for inspiration to create your own unique digital display? Check our these spectacular digital decoration setups from the best and brightest of the AtmosFX community!
Subtotal $0
Tax and shipping will be calculated at checkout.
Your shopping cart is empty.