It might be surprising to think that a collection of dusty ol' bones would be the stuff of AtmosFX's most popular decorations. But that's what Bone Chillers has become – a rollicking Halloween-themed decoration that has a little bit of everything, from music and dancing, slapstick routines ... plus a few good old fashion scares.
Among the nine projectors at Sean LeFebvre's Montreal, Quebec, home, Hollusion Mode displays of Bone Chillers deservedly get a prominent place on his front porch. Read about it here in the AtmosFAN Hall of Fame.
It is clear that Bone Chillers has become one of AtmosFX's most versatile decorations. Clever Halloween decorators have found so many unique ways to use it in many different scenarios – sometimes to elicit laughs, sometimes screams. Either way, it is sure to create a bone-rattling good time. So, how might you use it? We've got a few good ideas for you.
Add Some Dynamism to Your Graveyard
Most of us who use props as part of our Halloween display tend to use a lot of gravestones. And why not? They're simple to build or purchase, and there's no easier way to turn an otherwise cheery front lawn into something more worthy of Halloween.
And what goes better with a graveyard than skeletons? If you want to upgrade your front yard cemetery into something truly legendary, consider a Hollusion Mode projection of Bone Chillers. Simply hang some Hollusion Projection Material in your yard, and train your projector onto it. If you can hang your material at a height so that it just barely touches ground, it will appear that the skeletons have just dug themselves out of the graves and are thoroughly enjoying your front-yard graveyard. And if the skeletons are enjoying it, you know your friends and neighbors will, too.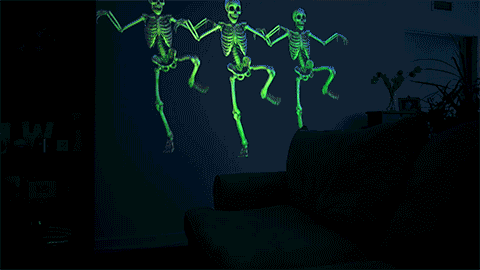 If you love Bone Chillers, know that a sequel was released in 2019 – Bone Chillers 2! There's more music, dancing … and a few more scares!
And, along those lines, don't forget that there's a lot of great how-two videos (like this one) that can show you how to build a gravestone that also hides and protects your projector. That's a two-fer: Not only do you get some lively skeletons haunting your graveyard, but you have a good-looking new gravestone to add to it!
Shake Your Tailbone with a Spirited Dance Party
Ever since Bone Chillers was first released, the music and dancing scenes have tended to attract (and dazzle!) a crowd. Kids and parents alike love to shake their tailbones along with these skeletons! It doesn't matter what format in which you present it – on a TV, in the window at the front of your house, as a surface projection on your garage door, or even as a Hollusion projection. When people want to dance, they dance!
With three new dancing scenes and three new musical performances in Bone Chillers 2, there are more ways to keep the music flowing. But don't forget that these spirited skeletons can also be combined seamlessly with the creatures and creeps in AmtosFX's other groovin' decorations: Halloween Monster Bash and Halloween Zombie Bash. Create a playlist where one dance routine leads to another, and you can keep the dance party going all night long.
Entertain the Kids This Halloween
Dancing isn't the only way Bone Chillers can keep the kids entertained this Halloween. There are plenty of playful – wait, downright silly – individual decorations within the collection that kids will watch over and over. Display the scenes on a TV or projection screen during a Halloween party and the kids party room will be rolling with laughter. (Just make sure you reserve the scarier stuff for the adult party room.)
And don't forget that you can combine Bone Chillers with other kid-friendly AtmosFX Decorations such as Jack-O'-Lantern Jamboree 1, 2 & 3, Witching Hour and Boo Crew to create a playlist of Halloween-themed slapstick routines, songs and stories. Or, if other Halloween TV specials are on the agenda for the night, you can intersperse these scenes in between for a change of pace.
Little Bones with Big Impact
Some of the spookiest Halloween effects are the ones you don't quite expect. We've seen some really clever decoration displays created in smaller spaces, like dollhouses, tabletop Halloween villages and the like. We've seen some great effects like this using Ghostly Apparitions and Macabre Manor decorations. Why not Bone Chillers, as well?
All you need is a pico projector to create a creepy effect in miniature – after all, you are simply setting up a smaller-scale Window Mode display or Hollusion Mode display. Or, simply take an unused phone or tablet, copy an individual decoration from Bone Chillers onto it, and then place it, for example, in a window of the dollhouse. (A good trick: layer some dark, gauzy fabric over the tablet to obscure the shininess of the screen.)
And we know this is only the beginning of the great ways to use Bone Chillers. How have you used this decoration? Show us by sending your photos and videos using this easy submission form!
How do others use 'Bone Chillers' in their decoration displays? Check it out here!
Longtime AtmosFAN Zach Breaux knows skeletons aren't just for Halloween – they celebrate Mardi Gras, too! Here, they play some upbeat jazz at Zach's Metairie, Louisiana, home. Read about it here in the AtmosFAN Hall of Fame.Kim Stephenson Haines posted her first attempt at digital decorating in Facebook's AtmosFX Decorating Community – and its an impressive Hollusion Mode display with Bone Chillers. Read about it here in the AtmosFAN Hall of Fame.
John Cook deploys the scary side of Bone Chillers at his Lakeville, Minn., home. Read about it here in the AtmosFAN Hall of Fame.
Dane Haddock from Brisbane, Australia, has created a mesmerizing Hollusion effect with Hollusion Projection Material and Bone Chillers.
Check out how these and other AtmosFANs use Bone Chillers Decoration Collection – as well as many other techniques and decorations – in the AtmosFAN Hall of Fame!