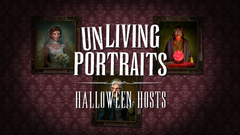 Halloween Hosts Trio Portraits
Decoration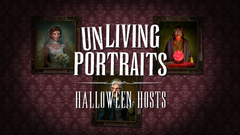 Description

This gallery of peculiar portraits – the Brooding Butler, the Fortune Teller and the Bewitching Bride – ponder the many mysteries of the Halloween season. Halloween Hosts: UnLiving Portraits Digital Decoration Collection is an eccentric exhibit that is perfect to project on your walls or display on your TV. These strange souls are just dying to hang around your home – will you be a part of their story?

Decoration Includes

"Feckless Hecklers" (3:39)
"Manor Mania" (3:54)
​​"Morbid Menagerie" (5:15)
"Startle Scare 1" (0:57)
"Startle Scare 2" (0:52)
"Startle Scare 3" (0:33)

Specifications

1080p HD Video Files in .MP4 Format
Trio Decorations Feature Horizontal Orientation Only
Wall Mode Options: Portrait Frame or No Frame

Delivered via digital download
HALL

of

FAME

Looking for inspiration to create your own unique digital display? Check our these spectacular digital decoration setups from the best and brightest of the AtmosFX community!
Subtotal $0
Tax and shipping will be calculated at checkout.
Your shopping cart is empty.