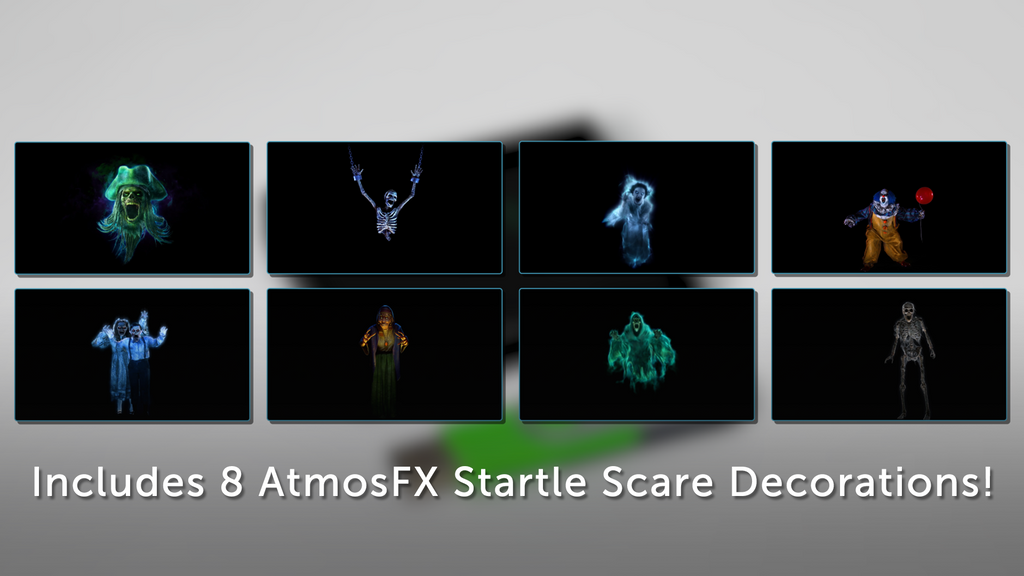 Sprite Motion Sensor Media Player
Key Features

MedeaWiz Sprite Media Player
2 GB USB with 8 AtmosFX Startle Scare Decorations
Motion Sensor with 15 foot Cable
Remote Control (Battery Included)
3.5mm to RCA Composite Cable
I/O Serial Plug for Controller Accessories

Description

Looking for a new way to turn heads and fascinate your audience? The Sprite Motion Sensor Media Player includes a convenient plug-and-play motion sensor trigger, as well as eight AtmosFX startle-scare decorations (listed below). This combination allows you to automatically play decorations when the motion sensor is activated.
Decorations Included

Every Sprite Motion Sensor Media Player from AtmosFX now includes 8 AtmosFX startle-scare decorations stored on a 2GB USB drive, ready to plug-and-play right out of the box! The startle scares are selected from the following AtmosFX decoration collections:

"Ghost Pirate" from Ghostly Apparitions 3
"Spooky Skeletons 2" from Bone Chillers 2
"Beckoning Beauty" from Ghostly Apparitions
"Creepster" from Creepy Clowns
"Evil Twins" from Macabre Manor
"Fortune Teller" from Halloween Hosts
"Wicked Wraith" from Phantasms
"Skeleton Surprise" from Bone Chillers
Play AtmosFX Decorations with Ease

This powerful and dynamic media player seamlessly plays high-definition AtmosFX Decorations and custom-built decoration playlists stored on a SD card or USB drive, which makes it the perfect option for decorators who have a TV, monitor, or projector that cannot play decorations directly from a USB drive or SD card.

Set-up is easy. Simply plug the media player into any display device that accepts HDMI or component inputs. Then insert the storage device, select decorations using the included remote, and hit play for endless decorating fun

The Sprite Motion Sensor Media Player is not a projector, and is not intended for use with DVD media.
Motion Sensor Decorating

The motion sensor adds entertainment for all manner of occasions – not just Halloween! While you can devise a startle scare for your Halloween display, you can also pleasantly surprise your Yuletide guests with a visit from Christmas Carolers, even Santa. Motion sensors are a great way to make sure your audience sees your video exactly when you want them to.

The latest Sprite Motion Sensor Media Player can trigger multiple decorations, instead of just one. If you have a Sprite from before 2021, you can even upgrade the latest firmware to convert your single-decoration-triggering Sprite.Click here to download the latest Sprite firmware update. For instructions on how to update, click here to view the user manual.

The motion sensor requires the use of "buffer" files, provided by AtmosFX with many of our digital downloads.
Designed by Experts

The Sprite was designed by industry experts with decades of experience in the holiday decorating and haunted attractions industry. Its energy efficient design is built to last for years with everyday use, while providing high quality HD quality video up to 1080p at 60 frames per second with stereo audio.

The Sprite is compatible with additional digital content including music, movies, and photos. It's also very small, making it incredibly easy to hide as part of a complex digital decoration set-up.
Technical Specs

Power: 5V / 400 mA DC
AC Adapter: 100 to 240 Volt AC Input, 5 Volt DC Output
Video Outputs: HDMI, 3.5mm jack to Composite RCA
Audio Outputs: Analog stereo 3.5mm jack, digital audio HDMI
Data Inputs: USB (HOST 2.0), SD Card (SD/SDHC/SDXC/MMC up to 32GB)
File System: FAT32, exFAT, NTFS
Language: Choice of 16 languages
Remote: uses 1 CR2025 battery (included)
I/O serial plug: 3.5mm jack to screw terminals

File Format Compatibility

Video: MP4, M4V, MOV, MKV, WMV, VOB, PMP, RM/RMVB, MPG, M2TS, FLV, AVI, TS/TP
Audio: MP3, WMA, OGG, FLAC, APE, AAC, AC3, DTS
Picture: JPG, BMP, PNG, GIF
Subtitles: SSA, ASS, ASCII, SUB, UTF8
HALL

of

FAME

Looking for inspiration to create your own unique digital display? Check our these spectacular digital decoration setups from the best and brightest of the AtmosFX community!
Subtotal $0
Tax and shipping will be calculated at checkout.
Your shopping cart is empty.