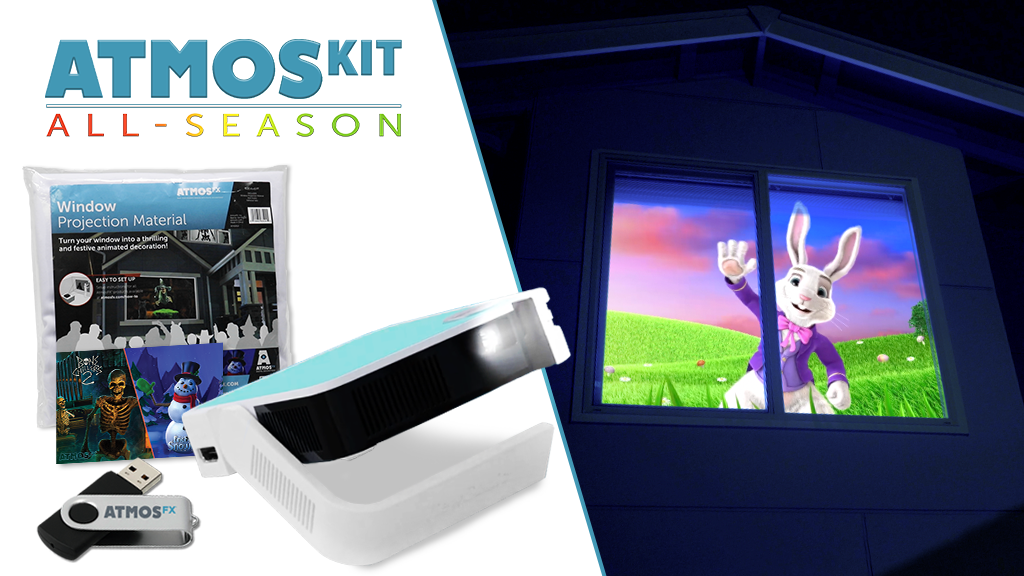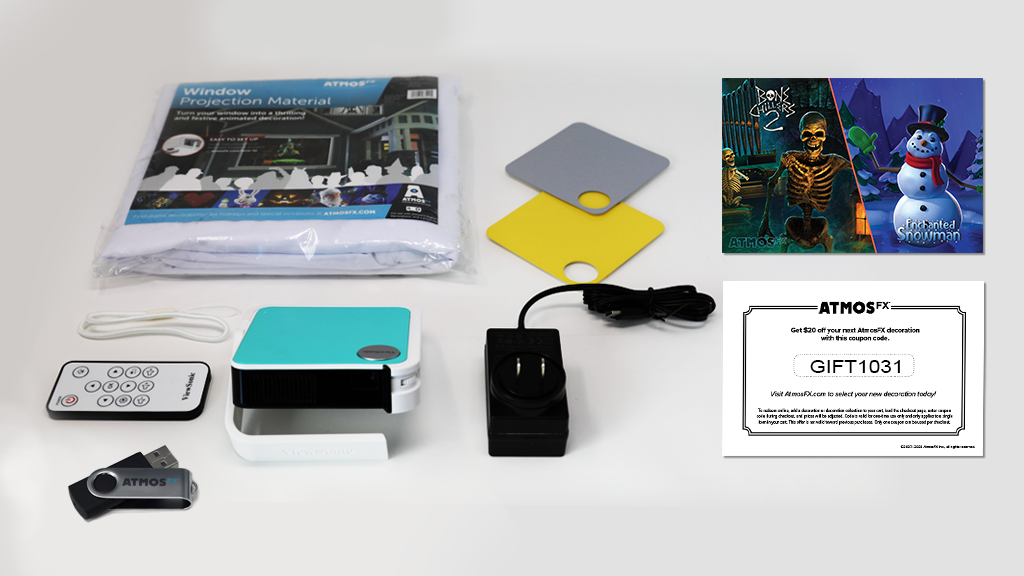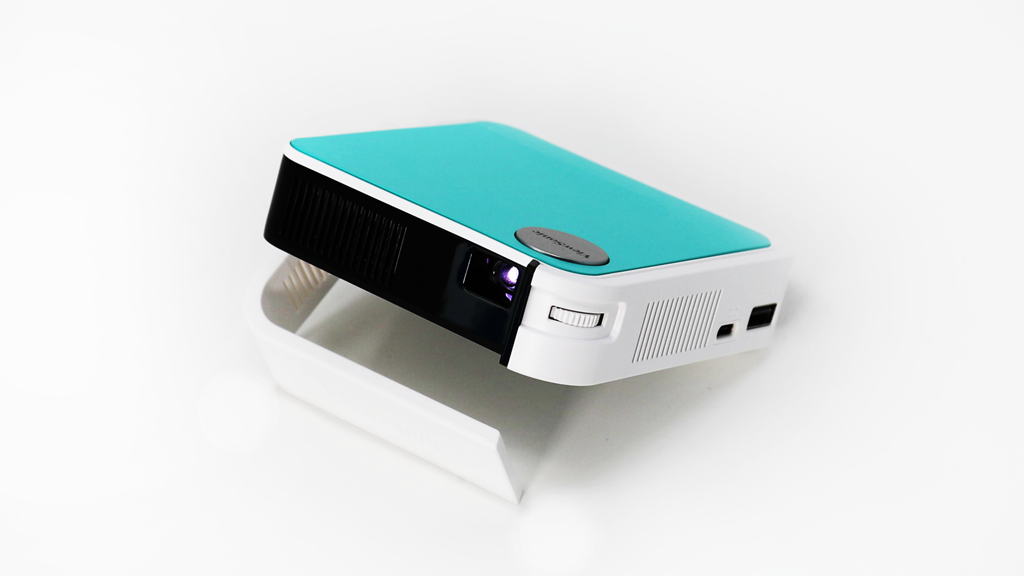 Key Features

ViewSonic M1 mini Plus Ultra-Portable LED Short-Throw Projector
Protected by ViewSonic's 3-Year Limited Warranty
12 AtmosFX All-Season Decorations
AtmosFX Window Projection Material (4 feet by 6 feet)
$20 decorations voucher sent via email
4 Gigabyte USB Drive
Description

The Budget-friendly Decorating Solution for Year-round Celebrations!

AtmosFX has teamed-up with ViewSonic® to create a projector kit that is both versatile and budget-friendly – the AtmosKIT! This dynamic all-in-one decorating package from AtmosFX features a ViewSonic M1 mini Plus projector as well as the decorations and projection material you need to create your own stunning decoration displays in minutes.

Want to compare the different AtmosFX projector kits? Click here to learn more about the AtmosKIT and AtmosKIT Plus.
Wireless Connectivity

The M1 mini Plus's wireless smart-device technology makes decorating easier and more discreet than ever.

Bluetooth enabled for wireless and outdoor speakers
Rechargeable battery life up to 1.4 hours, perfect for night-time decorations
Smart WiFi connectivity streams decorations directly from your tablet or phone
Stream your favorite movies, TV, or games
Handheld and Ultra-Portable

Compact size and sleek design make the projector easy to hide in any decorating display.

Built-in Smart Stand Rotates 360 degrees
Remote control included for easy set-up and access
Automatic digital keystone correction with vertical adjustment up to 40°
Weighs less than 1 pound, measures 4.3 by 4.1 by 1.1 inches
Outstanding Warranty and Support

Your M1 Mini Plus projector is protected by ViewSonic's 3 Year Limited Warranty. AtmosFX and ViewSonic can answer all of your decorating questions and guarantee the quality of your experience. You can always rely on the AtmosFX support team for well-informed answers and imaginative ideas for decorating displays of any size or complexity.
12 AtmosFX Decorations Included

Every AtmosKIT All-Season features a 4 GB USB drive packed with 12 of AtmosFX's most popular decorations for celebrations such as Easter, birthdays, U.S. holidays, dinosaurs, Halloween, Thanksgiving, Christmas, and more!

And remember, you can expand your decorations library with any of the hundreds of digital decorations from AtmosFX.com – available on digital download for immediate delivery on demand!

All AtmosFX digital decorations are strictly for personal, not-for-profit use unless a license is acquired. Information on non-personal use and licensing is available here.
Technical Specifications

Display Specs

Contrast Ratio: 500:1
Lamp Life: 30000 Hours
Native Resolution: 854 x 480
Display Color: 1.07 Billion Colors
Brightness: 120 LED Lumens

Screen Size

Display Size Range: 2 feet wide minimum, 8.3 feet wide maximum (0.6 to 2.54 meters)
Digital Keystone: Vertical +/- 40°, Automatic or Manual
Throw Distance: 40 inches (1 meter)
Throw Ratio: 1.2:1

Video/Data Inputs


Audio Outputs

Bluetooth 4.2 Wireless Output
Speaker: 2W Cube

Accessories

3 Swappable Color Panels (Gray, Teal, and Yellow)
Remote Control
Quick Start Guide
Power Adapter

Power Specs

Voltage: 3.7V
Battery Life: 5000 mAH, about 1.4 hours
Power Consumption: Normal: 20W , Standby: <0.5W
Stand-By Consumption: 0.5W
Operating Temperature: 32-104º F (0 - 40º C)
HALL

of

FAME

Looking for inspiration to create your own unique digital display? Check our these spectacular digital decoration setups from the best and brightest of the AtmosFX community!
Subtotal $0
Tax and shipping will be calculated at checkout.
Your shopping cart is empty.