New to digital decorating? Just follow these simple steps and bring year-round joy to your family, friends, community, co-workers and customers. 
Step 1
Select Your Decorations
Make all of your holidays and special events magical with digital decorations for every occasion and age. 
Choose your favorites!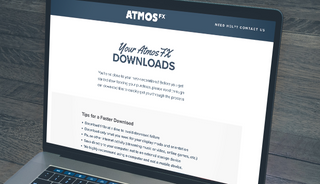 Step 2
Download Your Decorations
After you purchase your favorite Digital Decorations, we will email you a link to download them directly. It's so easy.
Step 3
Display Your Decorations
Use any TV, monitor, or projector to show off animated, entertaining digital decorations on your windows and walls, or on props, in yards, and elsewhere.
Step 4
Enjoy The Show
Looking for fun ideas and inspiration? Check out the AtmosFAN Hall of Fame and see what our fans are doing to celebrate in style. There are so many ways to decorate!
Holiday cheer arrives by special delivery, as Santa's elves open letters from children around the world.
Join Santa and his merry elves as they bake cookies, cakes, and other Christmas confections.
A charming gingerbread family delivers a dose of holiday warmth straight from the oven.
Create your Christmas masterpiece with this powerful all-in-one projection kit, complete with 12 AtmosFX Decorations.
Make the season joyful and bright with this powerful all-in-one projection kit featuring 12 Christmas-themed AtmosFX Decorations.
We love our fans.
"1st Time User"
We loved them so much! Can't wait to use AtmosFX again next Halloween! Going to pick up some Thanksgiving and Christmas decor next! Amazing!
- Greg M
"A+"
I look forward every holiday season to the latest decorations from Atmosfx, and so far I've never been disappointed in any of my purchases. Great company, amazing customer service, good prices for what you get.
- Stephen C
"Fantastic Display"
Here in the UK window projections are very rare and we had people standing for ages watching them. We even had people getting in the cars to come and see them.
- Darron A
"Neighbors Love It"
Very colorful and fun. All the kids make their parents drive by to see them. A wonderful addition to my Easter Decorations!
- Marilyn B
"Love What You Do"
You are amazing! My neighborhood is filled with young children and they absolutely love the latest ghosts, singing pumpkins and the singing witch, etc. You have brought so much joy to their lives.
- Belinda D
"Best Birthday Ever"
Even in quarantine!  They looked amazing and they were easy and perfect decorations.
- Candace A
"Great Fun"
I have been using AtmosFX decorations for a year. The dinosaurs were great for my grandson's birthday. I cannot wait for the 4th of July to use the fireworks on my house. Thank you for a wonderful way to celebrate any event.
- Edward K
"Always the Best"
We always outshine all of our neighbors year round no matter what the holiday. Love these!
- Carolyn R
"Love It!"
Such fun and exciting decorations. We have cars stop in front of our house all the time to watch.
- Daren K
HALL

of

FAME

Are you ready to claim your place in the AtmosFAN Hall of Fame? We're accepting photos and videos from around the world, in search of the next digital decorating superstar. Click the button below to check out our Hall of Fame standouts or submit your entry today!
As Seen On